As we have discussed recently, our College must be committed to a Culture of Respect, that is accompanied by Action towards racial equality and justice. Respect is the way we can value one another's contributions, and transcends race, gender, ethnicity, religion, sexual orientation, or disability. We must work to advance equality, where the demographics of our Science community reflect those in the United States. We must ensure that equal opportunities are present for employment, training and promotion.
Within this framework, I am delighted to announce the appointment of Professor Randall Hughes as the first Associate Dean for Equity in the Northeastern College of Science.
Dr. Hughes is Associate Professor in the Department of Marine and Environmental Sciences (MES). She joined Northeastern in 2013, after earning the Bachelor's degree in Biology and Public Policy Analysis at the University of North Carolina, Chapel Hill and the Ph.D. in Ecology at the University of California-Davis, where she also conducted postdoctoral research.  Her scholarship focuses on understanding the causes and consequences of marine biodiversity, and applying that knowledge to the conservation of marine systems.
In her tenure at the university, Dr. Hughes has demonstrated a consistent focus and accomplishment towards promoting diversity and inclusion. She has served on the College of Science Diversity Committee since 2018, and as Chair of the Diversity and Inclusion Committee in MES since 2017.  Among the many initiatives of that committee are the development of Principles of Community for MES and the Marine Science Center; workshops and seminars that increase understanding of inclusivity; and efforts to increase diversity in the MES program, through course enhancement and student recruitment. Dr. Hughes has prioritized efforts to develop meaningful engagement with diverse audiences, to convey the process and value of science, and to enhance representation in her field.
Randall Hughes has a further accomplished record of service.  She has taught, mentored and supervised undergraduate and graduate students, earning the Outstanding Co-op Advisor Award in Fall 2019. She has participated on a myriad committees, advisory boards and panels; organized student events, and performed outreach at local schools.
In her role as Associate Dean for Equity, Dr. Hughes will develop multiple approaches to achieve equality in the College of Science, and to promote a Culture of Respect. I am thrilled that Randall Hughes will transition into this role beginning July 1, 2020.
Please join me in congratulating Professor Hughes on this appointment, and lend her your full support as she promotes our collective action towards respect, equity, and justice across the College, and Northeastern University.
With best regards,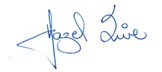 Hazel Sive Ph.D.
Dean, College of Science
Northeastern University