Working together towards a smooth Spring semester – 2.12.21
Letter from Dean Sive - February 12, 2021
Dear College of Science Faculty and Staff,
We are moving towards Spring! I am sure of this, because even in the frigid weather, the sunlight is staying longer each day, and there is no need for a flashlight on my dog's afternoon walk. I am sure we are moving towards Spring because there are buds on the rhododendrons and magnolias, magical groups of cells waiting for the moment they can wake up, and make flowers.
And of course, we are in the Spring Semester, which is running smoothly because of your outstanding, dedicated work. I want to thank each person in our College for contributing to this Smooth Spring Semester. THANK YOU, with greatest appreciation and respect for your expert, thoughtful, creative contributions. I hope you can rest and refresh over the long weekend.
Do you know 'The Lion, the Witch and the Wardrobe'? It's an exciting, allegorical children's book that begins in a perpetual winter brought on by an evil monarch: 'Always winter and never Christmas'. But somewhere in the book, after the magical Lion has come onto the scene, Christmas arrives, complete with hot chocolate, sausages, and presents. Then the snow starts to melt, Spring bursts in, and evil is banished (at least for the rest of the book).
As we move towards Spring here in Boston, our snow will melt also, for sure. And the 'evil' pandemic will be banished by the magic of Science. We can almost contemplate life after COVID. This will be a Spring like none other, because honestly, each of us has changed, and because the world has changed.
Almost a year ago, we went into emergency mode, we locked down, masked up, and feared almost everything. We have kept going somehow. Thanks to your work and that of so many others, Northeastern has stayed largely open, brilliantly, better than any other university in the United States. The effort, the expense, the innovation, the science behind keeping Northeastern open has been enormous. It is not over. We are not out of COVID-land. Each day is still a surreal slog, that can make us despondent and weary. But vaccinations are progressing on campus, including for some of our College members, while the rest of us wait patiently and gratefully for our turns. In the meantime, let's be kind and calm, keep safe practices going, and keep working together across our COS community for a smooth Spring Semester.
In mid-February, we can feel Spring coming along. It is good news!
Best regards,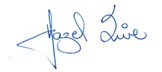 Hazel Sive PhD
Dean, College of Science
Northeastern University