Welcome to the New Year! – 9.9.22
Dear College of Science Faculty and Staff,
There is Mr. Dundon, handing out blue notebooks for the new year - Saxonwold School, fourth grade. You know them, flimsy blue 5x8 lined notebooks, with deep significance because they are a chance for perfection. Unmarked, pristine, waiting to begin a flawless year. Of course, by lunchtime (cheese and tomato sandwich, apple) that path is lost, my name written crookedly on the cover and the first page already including crossings out. No surprise really. But the opportunity to be better, possibly perfect, in every new year never stops being enticing.
These days I have a different, encouraging strategy. It still involves blue notebooks (National #43751) but every couple of weeks I start a new one, poised for better formulated entries. And each morning opens possibility for a more thoughtful, caring, innovative day. It's way better than a pathway to perfection open only once a year.
Still, as we gathered in our College of Science Community Meeting on Thursday, we were excited to think about Academic Year 2022/23. In our upcoming Annual Report with the Theme of 'Excellence', we highlight particularly strong outcomes in:
Culture of Respect and Action towards Equity
Communicating the Good Power of Science
Faculty hiring beyond our goals!
Research Grant success exceeds goal!
COS Faculty excellence recognized with Honorific Awards
Inaugural class of the Connected Science Community PhD!
MS training expands Globally
Development far exceeds goal!
Space Innovation!
Hybrid Work landscape
I am proud that the College of Science is in such good shape. As Associate Dean Sam Inman reported, our finances are solid. Our Diversity, Equity and Inclusion Action Plan was approved, under guidance of Associate Dean Randall Hughes. Associate Dean Oyinda Oyelaran thanked the many COS members contributing to hiring 13 tenure stream and 8 full time teaching faculty last year. Congratulations from Associate Dean Erin Cram to all involved in exceeding our research award goal with more than $60M raised! Associate Dean Jared Auclair discussed the inaugural class of our transformative cross-college Connected Science Community PhD.
We welcomed members who have recently joined the College and affirmed that our Important Work Continues within the framework of Excellence, Respect, Innovation, Community, Collaboration and Caring. The work supports the Northeastern Academic Plan, and will do so in our upcoming Strategic Plan for the COS. Please watch for announcement of awards, including new Staff Awards, and in person ways that promote how our community CONNECTS.
Welcome to the New Year!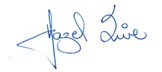 Hazel Sive PhD
Dean, College of Science
Northeastern University