Warmest Wishes for a Peaceful Holiday – 12/17/21
Dear College of Science Faculty and Staff,
This time of the year, I give out neighborhood awards. There are the holiday display categories – most colorful, most elegant, most complex; best holly bush; coziest house; unusual garden; magnificent tree; friendliest cat (Elsa); oldest dog (a seventeen-year old Husky). No category is off limits, and one-time awards arise as strike the fancy. It's a lot of fun. No-one knows they are a recipient, although I've been tempted to leave a note for the 'cheeriest fence lights' winner to say thank-you for brightening my evening walk.
It is stunning how tough this year has been. Again. We pray that your family and friends in Kentucky and neighboring states are safe. How relentless the bad news, the demands, the challenges. It is stunning how hard you are all working. But it's also stunning to see your successes. Every week I am thrilled to learn of your innovative teaching approaches. Of outstanding advising. Of top-quality organization and stewardship across the College. Of donations from wonderful supporters. I'm honored to see the prestigious awards and research grants our faculty have won. Every week I learn of your amazing research findings. In this tough time, the power of Higher Education, of Good Science and our work has only increased in importance – to guide students towards a productive yet peaceful life, and to contribute solutions towards the toughest problems on earth. As the late bell hooks said in Teaching to Transgress: Education as the Practice of Freedom: "The classroom remains the most radical space of possibility in the academy".
We are succeeding because we've walked step by step through the pandemic. As we walk, we need to be kind to one another, and we need to be kind to ourselves. Please give yourself as many 'Good Job Awards' as you like – each one comes with my most sincere congratulations and deepest appreciation for your partnership in the Northeastern University College of Science.
Next semester, in addition to our monthly CONNECTS Awards for all faculty and staff, and together with our prestigious COS Teaching Awards, we are pleased to introduce two new categories, COS Mentoring Awards, and COS Research Awards. Three prizes will be awarded annually in each category.
The Weekly will be taking a break until January 7, 2022. I hope you will take a break also, and that it includes delicious food, hanging out, fun, adventures, quiet, love and friendship. Best wishes for a joyous and peaceful Christmas. Best wishes for a blessed Kwanzaa and Habari Gani!
With warmest wishes for a peaceful holiday season and a wonderful 2022!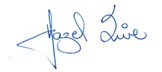 Hazel Sive PhD
Dean, College of Science
Northeastern University
[email protected]
Pronouns: she/her