Lessons from the BeeGees – 9.17.21
Letter from Dean Sive - September 17, 2021
Dear College of Science Faculty and Staff,
You've likely heard a BeeGees song - the 2017 estimate was that one of their hits played on the radio every twenty seconds. I had vaguely discounted them as a run of the mill pop group until I came across an interview with Barry Gibb, the last living member, and started digging around. In fact, their music is fantastic (click on the *links), and as a bonus, their interesting story suggested some excellent tips for Science research.
From modest beginnings in England, and later Australia, the Gibb brothers - Barry, and twins Maurice and Robin - formed the BeeGees and were pre-teen TV stars with confidence and great harmonies. Back in England the group became hugely successful, largely by popularizing 'disco' through their Saturday Night Fever* score (although the genre later became a racist/homophobic target). For 27 consecutive weeks in 1978, seven songs written by the brothers were #1 on the US charts, and they held five of the top ten slots for even longer. Eventually, radio hosts refused to play their songs and held BeeGees-free weekends!
The parallels between the effective BeeGees working style and the important collaborative research we're promoting at Northeastern are quite interesting. For example…
Harmonize. Three people, one lovely sound. My favorite Bee Gees video is Too Much Heaven* - the brothers simply clustered around a mic, complementing one another perfectly. Just like the complementary expertise that makes collaborative research powerful.
Give credit where it's due. The lead BeeGees singer was the one who wrote the song (for example I Started a Joke*). There was no fixed leader, more a shifting partnership. Works for collaborative research where distributing leadership may be most effective.
Smile while singing! As taught by the BeeGees dad. A positive attitude invites new ideas, constructive input and unusual connections.
Persevere, but also reinvent yourself. Totally. Research is hard work, and it takes time to get somewhere. The BeeGees kept going by shifting - from ballads to R&B to disco and then wrote for other artists*. No need to stay in a research rut.
Be there for the public. That's the point of performance, but we should be able to explain every research project in plain terms, and why it's useful.
Our Associate Dean for Research, Erin Cram, recently ran a survey to ask what would help promote top research in our College, including cross-College participation. Thanks to all who responded, and the results will be helpful in formulating next steps.  To start, we will be hiring an Associate Director for Research Development and Collaborations. Last year, the College of Science raised an impressive ~$45M in direct costs. This year our goal is an ambitious $60M, and reaching this depends on key research areas, the right funding type, high proposal quality, and numbers of faculty submitting proposals. Our five-year goals acknowledge the need to increase COS researchers: at least fifty new tenure stream faculty, doubling the number of PhD trainees, trebling postdoctoral trainees, and adding research faculty. Thank you to every faculty and staff member for the enormous, excellent efforts involved in gathering data, preparing funding proposals, monitoring grant awards, hiring personnel, and keeping our vast research enterprise running. 
Research is the most difficult thing we do in the College of Science and at Northeastern University. We need help from everywhere to build an ever more excellent research landscape, promoting harmonies that compose the brilliantly useful, fascinating music of Science.
Best regards,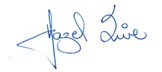 Hazel Sive PhD
Dean, College of Science
Northeastern University
[email protected]
Pronouns: she/her