Dear College of Science Faculty and Staff,
The ability to understand a reward goes way back in animal evolution, well before animals with backbones arose. The reward system is part of how we're motivated to get things done and includes some powerful neural circuits. Unfortunately, these same circuits become mis-directed in opioid or other addictive disorders. In our day to day, as you know, rewards acknowledge something well done, like a small cup of salted caramel ice-cream when you finish putting together next week's homework problems or submit a Report on time. Awards are often more public than Rewards, often less delicious, and usually more formal with a citation. There are fewer Awards than rewards but let me say that every person in the College of Science deserves an Award for Important Contributions Made in AY21-22. Congratulations! to each of you, for how you contribute, collaborate, and connect across the College of Science and Northeastern University.
And yes, it's Awards Season as the academic year wraps up. Since we introduced CONNECTS Awards in October 2020, there have been more than 50 outstanding COS recipients, the latest Sima Kalmens, Rich Pumphrey and Sarah Stanton. Congratulations! CONNECTS Awards honor faculty and staff who have made wonderful contributions in Extraordinary Work or Service; 2. Promotion of Equity and a Culture of Respect; or 3. Promotion of Community.
As of today, we have achieved 87% of our ambitious research revenue goal this academic year (with $52M awarded!). Amazing, and Congratulations!Congratulations! to our Inaugural COS Excellence in Research Award Winners, Xuwen Zhu, Steven Lopez and Ke Zhang!
Congratulations! to Dessy Raytcheva (Biology) for receiving a 2022 University Excellence in Teaching Award!
Congratulations! to three College of Science undergraduates, B. Parazin, Giona Kleinberg, and Ari Zlota, and their teachers and advisors for winning incredibly prestigious Goldwater Scholarships.
The Graduate Congratulations list is so long, please find the individual names in announcements below. Congratulations! to winners of the COS Dean's Award for Graduate Student Excellence; to the Northeastern 2022 Outstanding Graduate Award recipients and to our NSF Graduate Research Fellowship Program (GFRP) recipients.
Congratulations! again to our 2022 COS Excellence in Teaching Awardees Heather Littlefield, Kirsten Fertuck and Dessy Raytcheva, and to all faculty previously acknowledged who have won an honorific award. The lists of Awards to COS members are long and brilliantly deserved.
Formal Awards are lovely, they feed into our reward system and make us feel proud and valued. But in my view, daily rewards are just as important, and please be generous with them. Please say 'well done' to your colleagues when you appreciate their thoughtful, collaborative work, and please say 'well done'to yourself every day. Congratulations! for trying hard, for getting through a tough day, for learning from a mistake, for being encouraging, for saying hello to someone who looks a little lost, for caring. Congratulations and well done.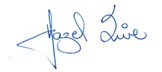 Hazel Sive PhD
Dean, College of Science
Northeastern University