A Kind, Calm, and Creative New Year – 1.22.21
Letter from Dean Sive - January 22, 2021
Dear College of Science Faculty and Staff,
The morning air has a special sharpness that I love. I think there must be a chemistry involved – an ionization driven by the new light, perhaps? (CCB members, any insight or comment on this 1903 musing?)
The morning is also wonderful, because it offers chances to begin again, every single day. This week had many good beginnings, and it seems like this is the true start of the New Year.
In Washington DC, the new administration was inaugurated. What a relief for everyone, regardless of political affiliation, to see competent leaders in place. How outstanding to see the power of science embraced and understood at the highest levels. What a celebration! And the highlight of the event for me, Amanda Gorman, US youth poet laureate, whose brilliant talent shone through even the small screen on my phone.
At Northeastern, our new semester has begun. Students are thrilled to be back on campus, and excited to learn in person or remotely through NUflex. If you are teaching or mentoring this semester, thank you for educating our students at all levels. Whether you are working remotely or on campus, thank you for working productively wherever you can. Thank you to every College of Science member for helping address our goals of increasing excellence in research, education and innovation. It is an honor and pleasure to work together with you.
Across the country, fighting COVID has taken a turn into new beginnings with administration of effective vaccines. We must patiently wait our turns, but Northeastern is ready and well-organized. Please complete your attestation form, so you can be put into the correct Phase of vaccination. We have received a second lot of vaccine on campus (~2,000 doses) and people in Phase II are now eligible.
We are not yet safe. The pandemic still rages. Life expectancy in the US has declined by more than one year since its start, disproportionately affecting Black and Latino populations. It is a very stressful time, and please see a listing of Mental Health Resources below. We must mask, distance and take advantage of our best-in-the-world Northeastern testing capabilities (we cannot thank you enough, Jared Auclair).
But we are beginning to move in the right directions. We will get through this semester by being kind, calm and creative. By working together. Happy New Year to everyone!
Best regards,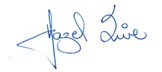 Hazel Sive PhD
Dean, College of Science
Northeastern University