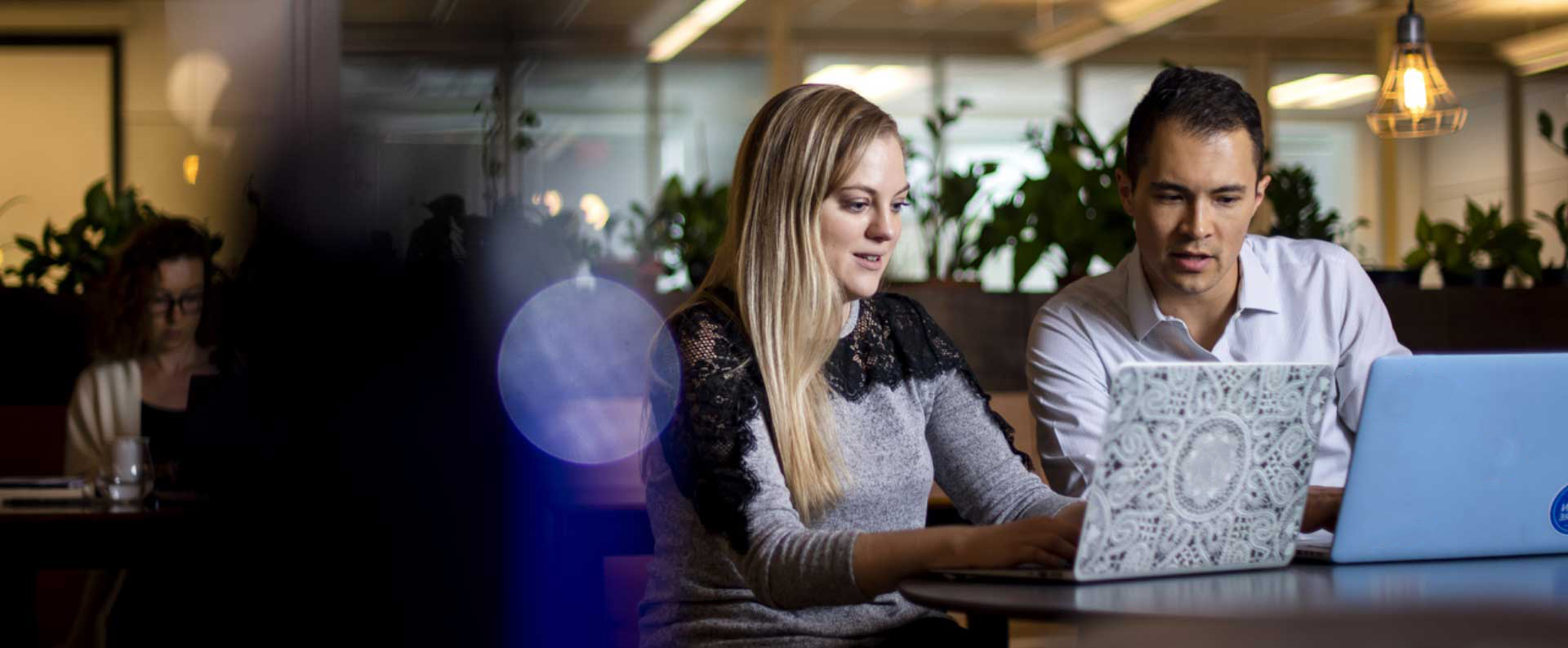 Giving
Our alumni and partners support the College of Science with gifts of time and funds. Your generosity helps us continue to make an impact in scientific education and research, and be a force both on campus and around the world.
Thank you for your contributions; they are greatly appreciated.
Give
Make a gift to the COS. Gifts in any amount support programs and Initiatives that impact students and faculty in countless ways
The We Care Emergency Fund
The fund will provide temporary, short-term financial assistance to currently enrolled students experiencing hardship due to the COVID-19 pandemic.
Give Here
Explore a host of other funds and support a direct initiative in the College of Science.
Contact the Advancement team to discuss planned giving, gifts of stocks, and matching gifts.
Volunteer
Donate your time to advancing our mission. Become a career mentor, participate in an event, or learn about other ways to become involved.
LEARN MORE
News
Biochemistry, Biology, Biotechnology, Chemistry and Chemical Biology, College of Science, Marine and Environmental Sciences, Marine Science Center, Mathematics, Network Science Program, Physics, Psychology
When COVID-19 emerged as global threat, it demanded action. The Northeastern College of Science heard the call.
A fleet of professors, researchers, technicians, staff, and students overnight became mobilized to fight on the front lines of science. Together, and in every discipline of science, they were able to make significant contributions to the collective good: developing epidemic models, serving as advisors to local and national government, studying the structure of the virus, assisting with contact tracing, developing systems for on-campus testing, and more. Even as pandemic continues, so does their work.
Thanks to [email protected]'s exceptional team of journalists and photographers, we are now able to present a retrospective of their work, through the first six months of COVID-19.
---
|

March 2, 2020
Research from the Network Science Institute uses mathematical equations to track how "social contagions" spread. This data shows how to follow false news and rumors about COVID-19, and why gossip spreads like a disease itself.
Featuring: Jessica Davis (PhD student), Alessandro Vespignani
Topics: Mathematics, Network Science
---
|

March 6, 2020
The Network Science Institute published a study showing that closing boarders and travel bans might slow the spread of COVID-19, but will not stop the spread. Their study used Wuhan travel bans as an example for America
Featuring: Jessica Davis (PhD student), Ana Pastore y Piontti, Alessandro Vespignani
Topics: Network Science
---
|

March 20, 2020
Thomas Gilbert explains the simple chemistry behind why washing your hands with soap is so effective at killing virus's and bacteria. This goes into why the twenty second rule is important, and how soap as a lipid can fight the lipid casings of bacteria that water can't dissolve.
Featuring: Thomas Gilbert
Topics: Chemistry and Chemical Biology
---
|

March 27, 2020
Abhishek Mogili is a Biology co-op student helping prepare hospitals for the incoming onslaught of patients. Acting as an extra set of hands, he helps brace for impact with COVID, a common theme among pre-med co-ops.
Featuring: Abhishek Mogili (Co-op student)
Topics: Biology
---
|

April 1, 2020
David DeSteno explains how rumors and fear, while useful, can get blown out of proportion. DeSteno goes on to show how this applies to the pandemic, and how to combat this unnecessary fear.
Featuring: David DeSteno
Topics: Psychology
---
|

May 15, 2020
Chemists at northeastern research possible weak points the COVID-19 virus might have. Using machine learning, coupled with knowledge of the disease's amino acids, Mary Jo and Penny could locate these weak points, helping create possible vaccines down the line.
Featuring: Penny Beuning, Mary Jo Ondrechen
Topics: Chemistry and Chemical Biology
---
|

June 1, 2020
The Marine Science Center had taken notice that food shelters had less volunteers during the pandemic, and was struggling to help feed people especially when the home style dining they cherished became impossible. The researchers working at the MSC stepped up to keep meals flowing for those in need.
Featuring: Torrance Hanley, Randall Hughes
Topics: Marine and Environmental Science
---
|

June 3, 2020
John Coley explains how misconceptions about COVID arise, and why psychologically they make sense. He goes on to explain how to fight these misconceptions with that same psychology.
Featuring: John Coley
Topics: Psychology
---
|

July 27, 2020
As researchers study SARS-CoV-2 and COVID-19 at breakneck speeds, one key aspect to keep in mind is that the research is happening while everyone watches. "The public is getting front-row seats to the scientific method, probably in a way they never imagined they would've experienced," says Samuel Scarpino, who runs the Emergent Epidemics Lab at Northeastern.
Featuring: Sam Scarpino
Topics: Marine and Environmental Science
---
|

August 5, 2020
The Northeastern Life Science Center receives permission to process the university's coronavirus tests. This tremendous project is led by Jared Auclair, an assistant professor of biotechnology.
Featuring: Jared Auclair
Topics: Biotechnology
---
|

August 6, 2020
William Sharp discusses the stresses "mask vs no mask" interactions can cause, and shares how to start the important conversations surrounding them. It is always better to be aware of what everyone is comfortable with going into a public event.
Featuring: William Sharp
Topics: Psychology
October 25, 2020
Marine and Environmental Sciences, Marine Science Center, Marine Science Center
Congratulations to Allison Noble and Haley Bayne, this year's recipients of the Dr. Carl Muckenhoupt Scholarship!
The Muckenhoupt Scholarship is awarded each year to Northeastern undergraduate students who will use their training in science "to benefit the environment of the earth and those upon it." The 2020 recipients were chosen from an impressive pool of academically exceptional and environmentally inclined students.
Allison Noble ('21), Marine Biology
Allison Noble (2021) is a Marine Biology student who has worked on several projects with the Marine Science Center, including research internships in the Hughes Lab and the Kimbro Lab.
Noble says she has most appreciated the opportunities to do field work in a diverse array of different ecosystems, especially the oyster reefs in both Florida and Rhode Island. Her work studying stony coral tissue loss disease was featured in a news feature earlier this year.
Noble's latest project, in collaboration with Jeriyla Kamau-Weng, another Northeastern student, is development of the Marine and Environmental Sciences Peer Mentoring program. The program — the first of its kind in the College of Science — will be launched in the fall and already has over sixty participating students!
This summer, Noble volunteered at the Trevor Zoo in Millbrook, NY for the third year in a row, and participated in a virtual internship with the National Oceanic and Atmospheric Administration (NOAA) researching soundscapes in areas with varying levels of habitat degradation at the Waquoit Bay National Estuarine Research Reserve. Her sound ecology work will continue this Fall with a co-op at the Woods Hole Oceanographic Institution researching sensory and sound ecology on coral reefs.
Hayley Bayne ('20), Environmental Science
Haley Bayne (2020) is an Environmental Science student with interests in sustainability, ecology, and science communication.
She has enthusiastically seized opportunities for study and field research abroad during her undergraduate degree. One of her favorite experiences was a Dialogue course in Iceland, where she explored local geology and was inspired to consider ways that sustainable energy practices in place in that country could be and applied in the United States.
Bayne also worked in the Rosengaus Lab studying antifungal mechanisms in termites, where she honed her research skills, mentored younger students, and produced a research paper which will be published later this Fall.
Last year, she was invited to attend a research conference in the Netherlands, where she was able to attend lectures as well as network with researchers at the top of their fields. Bayne is currently taking virtual classes at Northeastern in addition to exploring new interests and developing her skills in science communication and lab research.
Congratulations to both of these scholars on receiving the 2020 Muckenhoupt Scholarship and for all of their exciting research! With co-op and research experiences throughout their time at Northeastern, these students With co-op and research experiences throughout their time at Northeastern, Bayne and Noble are well prepared to make a positive impact with their future work.
October 23, 2020
Biotechnology
By the time that Eduardo Sanchez heads to work in the morning, he's already been up for hours—reading and preparing for the discussions, quizzes, and tests he takes as part of a master's program in biotechnology at Northeastern.
But he won't touch that classwork again until after 11 at night, after he ends his shift as one of the scientists who ensures Northeastern's Life Sciences Testing Center runs like a well-oiled machine to process thousands of coronavirus tests on a daily basis.
In July, when Sanchez joined a then-four-person team as a lab technician, the systems and instrumentation that sustain the lab today were still being  designed. Then they needed to be validated in order to acquire the licensing that would allow the lab to conduct the diagnostic analysis and process the human samples necessary to test for the SARS-CoV-2 coronavirus, which causes COVID-19.
Now, nearly 10 weeks into its operations, and thanks to the determination of Sanchez and other scientists with experience working in other clinical laboratories, the state-of-the-art facility has been the engine of an ambitious testing operation that has allowed Northeastern's campus in Boston to re-open—and remain open—this fall.
October 22, 2020